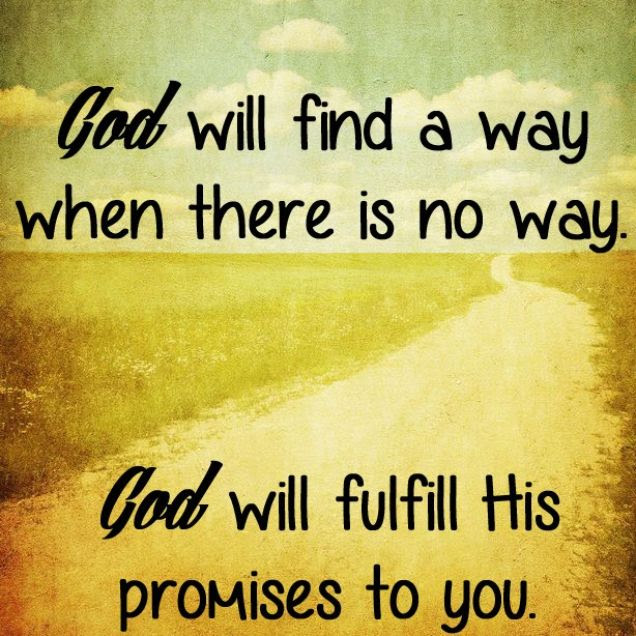 Some of you are giving up because you can't see any outward sign of progress. Why are you letting go of the dreams which I gave you?  Don't you know
 that
's what the enemy wants you to do?  
My Word
 is true, and I will fulfill that which I have spoken to you; this is a promise.  Don't give up.
Dear child, I know this season has been a test of faith waiting for 
the fulfillment of 
My promise, which has not come.  Must I remind you 
that 
I work according to My timing, not yours? I am not slack concerning fulfilling 
My Word
. I will perform that which I have spoken, and I will do it in the manner which I have purposed.  I Am that I Am.  I will perform My word. The words which I speak shall not return 
to Me 
void. 
Despite the surrounding situation, hold fast to what you know is true; My word.  Has quitting ever accomplished anything? No, and it and it never will.  Why not put your faith in 
the One
 Who is always faithful? Hold fast; I Am faithful, and I will fulfill My word.
Read and Meditate on His Word:
Psa. 119:160  Your Word is true from the beginning, and every one of Your righteous judgments endures forever. 
Isa 55:11  So shall my word be that goeth forth out of my mouth: it shall not return unto me void, but it shall accomplish that which I please, and it shall prosper in the thing whereto I sent it.
Heb 10:23  Let us hold fast the profession of our faith without wavering; (for he is faithful that promised;)
1Th 5:24  Faithful is He who called you, who also will do it. 
2Pe 3:9  The Lord is not slack concerning his promise, as some men count slackness; but is longsuffering to us-ward, not willing that any should perish, but that all should come to repentance.