The Lord Answered My Prayer
Scripture Reading Psalm 91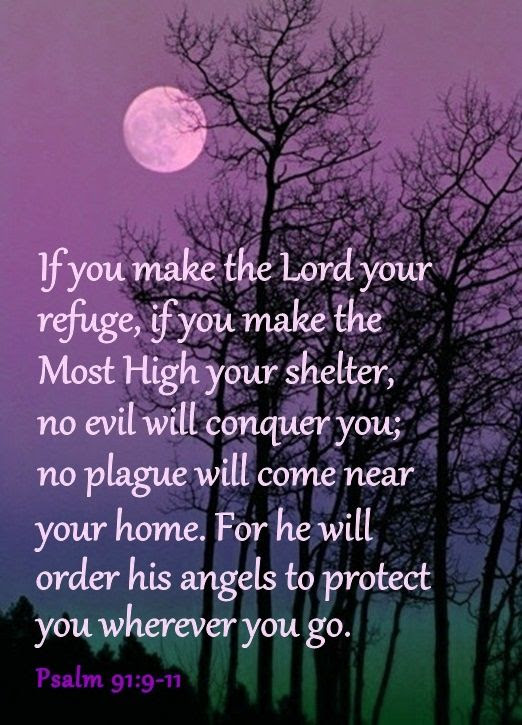 I overslept one morning after staying up late the night before working on some writing, and praying over some prayer requests that had come in.  I didn't get into bed until 4 am, so imagine how surprised I was when I didn't move when the alarm sounded off at 6:30 am.  I guess I was too tired to move.  Normally, I rise around 5:00 to begin praying and reading the Word, but that didn't happen this morning. 
I reflected on last night and how tired I was when I fell into bed.  I was lying and just as I was about to fall asleep I remembered I hadn't prayed.  Too sleepy to get out of the bed, I just started praying.  For some reason, this would not do; so I got up, knelt on the bed, and cried out to the Lord.  I grabbed my pillows and prayed over them.  I rubbed and prayed over the bed asking the Lord to protect my mind, and to minister to me as I slept.  The last thing I remember saying before I fell asleep last night was, "As I lay my head upon the pillow speak Lord for your servant is listening."  I said this over and over as I looked over at the clock; it was 4 am; I closed my eyes and fell asleep.
Shortly after that, I heard music playing softly, and I allowed it to minister to my spirit.  Not realizing that it was the music from the alarm which had gone off an hour before.  I didn't feel like moving, so I just laid there.  "How wonderful is this"?  I thought as I listened to the worship music.  I sang along with the song for a while, and then finally opened my eyes.  Oh no!  It was 6:30; I had overslept.  I got up and quickly got myself ready.  Instead of going to my prayer room, I went downstairs praying a little prayer as I started breakfast.  To be honest, the only thing on my mind was sleep. 
After I fixed breakfast, I went returned upstairs with the intention of saying another quick prayer and falling back in bed for a while.  However, instead of doing that, I entered my prayer room, and I sat down at the computer.  My Bible was still open on the computer table, so I picked it up to read, then changed my mind and decided I needed to check the computer to see if any prayer requests came in overnight.  I didn't see any, so I started to read my scriptures and pray when suddenly I found myself on my knees crying out and praying to the Lord.  The Holy Spirit took over and began to minister to me.  He opened my eyes and caused me to see a vision, which I will share with you now.
THE VISION:
The Lord allowed me to see myself out in a place that was not familiar to me.  No one was there, and it seemed to be a place of wilderness.  However, the path where I stood led to a great and beautiful fortress.  Even though I was in the wilderness, there was a strong presence of peace that surrounded me.  It was peace like I had never felt before.  The presence of a shadow came upon me, which seemed so peculiar because I did not see the sun anywhere.  However, the strange shadow remained upon me.   This shadow seemed to enlarge, and now it was all around me.  I remember thinking how strange that was because shadows don't behave that way.  Then the little child in me came out, and I had to move to see if the shadow could keep up with me.  The shadow seemed to anticipate my every move.  I was truly amazed by this and thought no one would believe this.  Then, I heard a voice say "Come."  I looked ahead that the great fortress and I started walking towards it.
As I began my journey to this magnificent fortress strange things started happening; the enemy unleashed an attack to stop me from reaching my destination.  It appeared as though the enemy had sent every wicked hindering spirit (oppression, sickness, stress, anxiety, and fears of every kind, worry, defeat, hopelessness, and doubt, discouragement, anger, deception, unforgiveness, depression, guilt and shame, unbelief, lack of every kind hatred and backbiting, slander, etc.) towards me.  He's trying to block my way, how was I going to reach the fortress?  I thought to myself "even in the midst of being alone in the wilderness; he still has to attack me."  Then I remember how the enemy tried to attack Jesus when He was in the wilderness.
So, if he attacked Jesus, who was I to think that he wasn't going to attack me.  Still, I kept thinking "Why can't he just go away and allow me to get through this trip?"  I cannot explain it, but I was not afraid, and I wasn't running away from him.  I opened my mouth to shout "Girl move," but no sound came out.  It's like when you're watching a movie, and you know what is about to happen to the person, and you try to warn them to get away, hide, or do something, but you know they cannot hear you. And for some strange reason, I couldn't hear myself.  My flesh wanted me to run, but the presence of the Lord was upon me, and I just knew all was well, and I didn't run.  So, I continued to walk towards the fortress, because the closer I came to the fortress, the stronger and more peaceful, I felt.  There was no way I was going to allow the enemy to stop this peace.  He wasn't going to have my joy.  He wasn't going to stop me from reaching that beautiful fortress.
The enemy continued towards me, and I remember thinking you could turn around and go back.  However, as I looked back, I realize there was no way I would return to my past.  God brought me too far to turn around and give up on reaching my destination.  I had to reach that fortress, and I wasn't going to allow the enemy to stand in my way.  I had to press my way through the enemy's roadblocks.  I will make it no matter what.  Once I confessed this in my mind; it went all through my body down to the very core of my spirit.  I felt renewed.  I felt the boldness of the Holy Spirit rise in me.  I was going to make it.
I continued to press on in my journey, and I saw that the enemy's wickedness was growing.  Every place I looked the enemy appeared to multiply.  A few turned into hundreds, hundreds into thousands, so many; I lost count.  They were coming towards me with an accelerated speed.  I could feel them getting stronger as they got closer.  They were getting ready to attack.  Then suddenly the enemy, let loose his arrows, I started calling on the Lord for help, and prepared myself for impact.  Praise the Lord!  None of them were hitting me.  I remember thinking the next set of arrows might hit me.  Oh, my goodness, they missed me!  Still, the enemy continued to shoot at me, but as the arrows got near me, they fell.  Some fell to the left of me, and more fell on my right side.  I couldn't explain it, but this shadow; this same shadow that came out of nowhere and hovered over me, appeared to be protecting me.  This was no ordinary shadow; there was some type of protective shield built in this shadow.  I noticed nothing the enemy threw at me could get close enough to hurt me.  Nothing was getting near me.
I lifted my head and continued my walk and with every step I took, I praised the Lord.  The enemy stopped firing arrows at me as if he had to regroup and figure out another way of attack.  I stopped praising the Lord, (remember what I said, "I stopped praising the Lord"), smiled, and continued my walk.  As I continued my journey, I looked down at the road, and it was changing.  "Oh no, the enemy has found another way to attack me."  Now he was below me unleashing yet another attack, and in front of me were creatures of all kinds.  Some of them I recognized and some I didn't.  The road was covered with his creatures, and if that wasn't enough, he put all kinds of stumbling blocks and stones in my way.  He was doing his best to make the rest of my journey even more challenging.  Nevertheless, I kept my eyes on that great fortress and continued walking.  I noticed the fortress was so much larger now, and it was the most beautiful building I had ever seen.
The enemy attacks were coming again, and this time a little stronger.  I called out to the Lord once more from the depths of my soul and begin to pray.  So many thoughts ran through my mind.  "Why, oh why, did I stop praising Him when things got better?  "Why did I feel it was ok to do that?"  I heard a voice say, "Walk on, My child, walk on," and so I did.  As I walked, I notice the creatures were being crushed under my feet.  However, when I crushed one creature, another creature appeared.  Then the enemy started increasing the attacks from the creatures.  Somehow, he figured I could only step on one of them at a time, so   I cried out even more to the Lord.  And when I started calling on the name of Jesus, angels appeared.  The angels lifted me over the enemy's creatures and every stumbling block he placed on the road.  The angels set me down just outside the great and mighty fortress.  Once my feet touched the ground, I fell to my knees praising the Lord for delivering me from the wilderness and the attacks of the enemy.  I asked Him forgiveness for neglecting to praise Him when all was well, then I heard the Lord say:
"My Child, You've been praying, asking, and crying for this to become a part of your life.  You've been crying out for this to take root in your soul so that you could live and walk it every day.  My child, I heard your prayers; I have seen your tears, and I am here to see about you.  Spend time with Me this day in our secret place. 
Tears fell from my eyes as I heard Him speak.  These words poured from my lips, and I got up to enter the great fortress, my secret place:
Because I dwell in the secret place of the Most High, I shall abide under the shadow of the Almighty.  I can say of the Lord, He is my strength; He is my peace; He is my refuge; He is my fortress in Jesus will I trust.  He has delivered me from the snare of the fowler and the perilous pestilence.  He has covered me with His feathers, and under His wings, I have taken refuge.  His trust has become my shield and my buckler.
I won't be afraid of the terror by night, nor the arrow that flies by day, nor the pestilence that walks in darkness, nor the destruction that lays wait at noonday.  A thousand may fall at my side, and ten thousand at my right hand, but praise the Lord none of this will come near me.  Only with my eyes will I look and see the reward of the wicked.  Because I have made Jesus, who is my refuge, the Most High my dwelling place.  He won't let any evil come near me. No evil shall come near, nor any near my dwelling place for He has given His angels charge over me to keep me in all my ways, in all that I do, in all that I say, everywhere I go.  They will lift me up in their hands, so I won't hurt myself.
I will tread upon the lion and the cobra; the young lion and serpent have been trampled under my feet.  Because I have set my love upon the Lord, He will deliver me.  Jesus has set me on high because I know His name.  When I call upon Jesus, He will answer me.  He will be with me when I am in trouble.  He will deliver me and honor me.  With long life, He will satisfy me and show me His salvation.
A knock at the door brought me out of the vision.  They apologized and wanted to know if I was alright.  I truly had forgotten that anyone was in the house with me.  I lost track of time.  I looked at the clock; over an hour had passed.  I sat the computer reflecting on what had just happened and picked up the pad to write.  I asked the Lord to help me to write down all that happened so His people will know He is real, and that He is with them in all their battles.  As I started to write I looked down at my Bible, and it was opened to Psalm 91.  I started reading it and tears fell again as the Lord brought back to my remembrance what happened in the vision.  You see I had been reading this Psalm for a long time, and crying out to the Lord, asking Him to make Psalm 91 real to me.  I wanted it to be a part of my life.  I wanted Psalm 91 to be rooted and grounded in me and this morning the Lord answered my prayer.
He allowed me to see what I had been going through, and how the enemy had been attacking me.  He also allowed me to see that when things were going great, I did not praise.  Him as much or didn't praise Him at all.  Why did I make that mistake?  Do you make that mistake?  Why do we let our guard down when things are going great in our lives?  If anything, we need to praise Him more fervently in the good times, because when hard times come we are so worried about the things we need, we truly neglect to praise the Lord for His goodness and mercy.
The Lord wants us to continue to praise and spend time with Him every day as though our lives depended on it, (and they do) not just when our backs are against the wall.  He also made me aware that when we call upon His name, He will answer.  He will send His angels to come and see about us.  Oh, what a mighty God we serve.  I pray that this word will bless you and that you will continue to seek God's face not just His hands so that you will get to know Him more intimately.  I pray that Psalm 91 will become real to you and that the Lord will allow it to bless you as it blessed me.  Be blessed, I must now go back and enter that Secret Place.