The Lord Answered My Prayer
Scripture Reading Psalm 91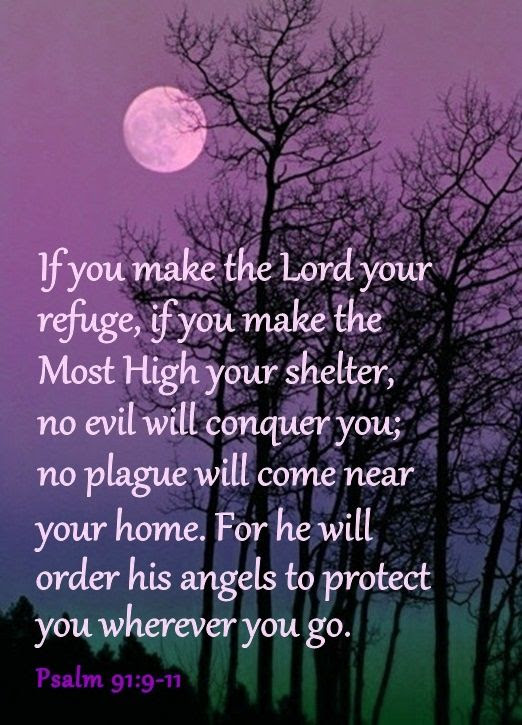 I overslept one morning after staying up late the night before working on some writing, and praying over some prayer requests that had come in.  I didn't get into bed until 4 am, so imagine how surprised I was when I didn't move when the alarm sounded off at 6:30 am.  I guess I was too tired to move.  Normally, I rise around 5:00 to begin praying and reading the Word, but that didn't happen this morning. 
I reflected on last night and how tired I was when I fell into bed.  I was lying and just as I was about to fall asleep I remembered I hadn't prayed.  Too sleepy to get out of the bed, I just started praying.  For some reason, this would not do; so I got up, knelt on the bed, and cried out to the Lord.  I grabbed my pillows and prayed over them.  I rubbed and prayed over the bed asking the Lord to protect my mind, and to minister to me as I slept.  The last thing I remember saying before I fell asleep last night was, "As I lay my head upon the pillow speak Lord for your servant is listening."  I said this over and over as I looked over at the clock; it was 4 am; I closed my eyes and fell asleep.
Shortly after that, I heard music playing softly, and I allowed it to minister to my spirit.  Not realizing that it was the music from the alarm which had gone off an hour before.  I didn't feel like moving, so I just laid there.  "How wonderful is this"?  I thought as I listened to the worship music.  I sang along with the song for a while, and then finally opened my eyes.  Oh no!  It was 6:30; I had overslept.  I got up and quickly got myself ready.  Instead of going to my prayer room, I went downstairs praying a little prayer as I started breakfast.  To be honest, the only thing on my mind was sleep. 
After I fixed breakfast, I went returned upstairs with the intention of saying another quick prayer and falling back in bed for a while.  However, instead of doing that, I entered my prayer room, and I sat down at the computer.  My Bible was still open on the computer table, so I picked it up to read, then changed my mind and decided I needed to check the computer to see if any prayer requests came in overnight.  I didn't see any, so I started to read my scriptures and pray when suddenly I found myself on my knees crying out and praying to the Lord.  The Holy Spirit took over and began to minister to me.  He opened my eyes and caused me to see a vision, which I will share with you now.